HEY "ITIL EXPERTS" – READY FOR YOUR NEXT CHALLENGE?
---
Yes – bring it on!
You did it. You invested countless hours twisting and turning, and successfully maneuvering your way through the multiple layers of the ITIL® v3 qualification scheme. You've become an "ITIL Expert", or very close to it.
Now you're ready to apply your talents on your next adventure. The next wave. Well, here it is...
A NEW DESIGNATION – ITIL MANAGING PROFESSIONAL (MP)
---
In ITIL 4, the ITIL Expert designation is replaced with what will soon be one of the most coveted IT designations yet – ITIL Managing Professional (MP)!
And who better to get your ITIL 4 advanced training with than the world's largest and most respected ITIL training provider – Pink Elephant.
COURSE OVERVIEW
---
This five–day course prepares you for the exam leading to the ITIL 4 designation: "ITIL Managing Professional (MP)".
It is only available to ITIL v3 Experts or any individual with a minimum of 17 ITIL v3 credits.
The course content provides a holistic picture of the critical learning points and knowledge IT management professionals require on key organizational and business topics related to ITIL 4's new service value system (SVS) and its multiple components. The agenda includes:
A review of the main differences between ITIL v3's five-stage lifecycle IT service management model and its 26 processes and functions, compared to ITIL 4's service value system model and its 34 practices
A review of the SVS model and its components: the service value chain, seven guiding principles, four business dimensions, governance, continual improvement, and a review of ITIL 4's 34 practices, which are grouped into three operational streams (general management, service management, and technical management)
Key concepts and teachings from the three ITIL 4 advanced IT Specialist courses: Create, Deliver & Support; Drive Stakeholder Value; High Velocity IT
Key concepts and teachings from the ITIL Strategist advanced book and course – "Direct, Plan & Improve"
A review and ample discussion of the examinable agenda items, at the end of each module
Practice exams and ample opportunity to reinforce the key concepts needed for the exam
High quality add-ons, including "how-tos" based on real-life examples from the best ITIL trainers in the world (yes, it's really true and we're proud of it!)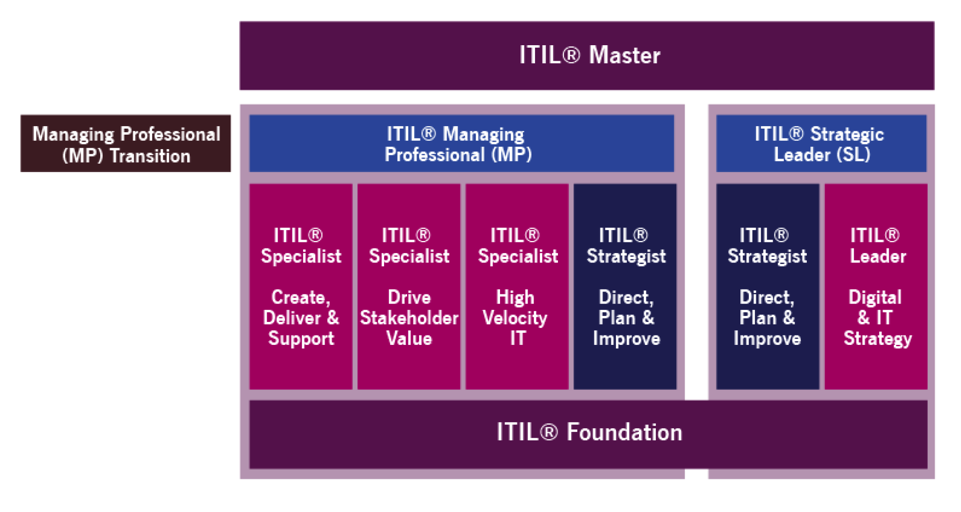 WHO SHOULD ATTEND & PRE-REQUISITES?
---
This course is a management level course intended ONLY for individuals who have obtained their ITIL Expert designation, or have achieved 17 ITIL v3 credits before starting the course.
You also qualify if you have obtained 15 ITIL v3 credits and passed the ITIL 4 foundation exam.
If you do not have the required credits yet and only need a few more, click here to see Pink's course schedule – it's not too late to solidify your knowledge!
Contact us to learn more at 1-888-273-PINK, info@pinkelephant.com. Or use our chat window here at the bottom of this page.
EXAM & CERTIFICATION
---
Exam is administered by PeopleCert
The closed-book exam is 90 minutes in duration, includes 40 multiple-choice questions and is administered online by an independent examination body. Participants are provided with an exam voucher so they can schedule the exam at their convenience on any date after completion of the course.
A passing mark of 70% is required to receive your certificate. An exam review is included in the course to help prepare attendees for the final exam.
You will attain 30 professional development units (PDUs) for Project Managers.
COURSE E-MATERIALS
---
Material for this course will only be provided in downloadable soft copy. However, if you prefer, you may print the files according to the Pink Elephant Terms of Use.
MULTIPLE OPTIONS FOR HOW YOU CAN ATTEND THIS COURSE
---
NEW!

Self-Paced Online:

Learn at your own pace from your computer, anywhere at anytime. Get the FULL course in e-learning format for six months.

Public Web-Based:

On specific dates throughout the year; hosted live online with our expert instructor.

In-House:

Live Classroom: On dates convenient to you; exclusively for your team at your location with our expert instructor.
Live Web-Based: On dates convenient to you; exclusively for your team, hosted live online by our expert instructor.
TERMS & CONDITIONS
---
View terms and conditions related to public courses.
QUESTIONS?
---
Want more details or have any questions? Contact us at 1-888-273-PINK, at info@pinkelephant.com, or ask your questions via our convenient Chat window at the bottom right-hand corner of this page.
SHOPPING CART
---
View terms and conditions related to public courses.
Fees do not include applicable tax, which is payable for all events presented in Canada.