JOIN THE LEAN IT REVOLUTION!
---
We strongly believe that "Lean Thinking" needs to be a part of EVERY IT professional's toolkit.
Lean IT is all about understanding how to assess business processes to identify and eliminate waste. Already many IT professionals from all levels — operational, tactical and strategic — have taken the certification course and are undertaking value-added and cost cutting process improvement activities. How about you? Are you ready to learn more about what it really means to take control of processes — any process?
Here's one IT executive's view from a major insurance company:
"To date, close to 300 of our staff have taken Lean IT courses. And, more to go. I strongly believe that applying Lean and Six Sigma to IT processes has enabled us to gain numerous efficiencies…I would highly recommend Lean IT training to everyone (except our competition)."
Now it's your turn….are you ready to understand what continuous improvement really means?
LEAN IT CERTIFICATION PROGRAM
---
This Foundation level course is the first in the new Lean IT certification program defined by the Lean IT Association. It is a mandatory requirement for all other levels within the certification scheme.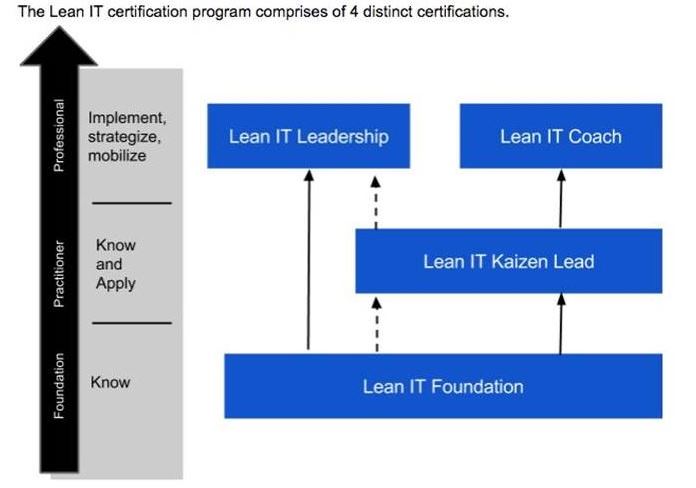 After acquiring Foundation Level Certification, you can gain a deeper, more practical level of knowledge about Lean IT and Six Sigma by taking the other courses, also offered by Pink Elephant. Click here for course descriptions.
COURSE OVERVIEW
---
This course prepares you for the exam leading to the Lean IT Foundation Certificate.
Based on the core principles of Lean, the two-day Foundation level certification course will help IT departments become more business-value oriented, removing waste, inflexibility and variability. The principles of Lean IT are applicable to all IT operations regardless of industry or sector. Any organisation effectively applying Lean IT will notice increased user and customer satisfaction, reductions of IT costs, increased productivity, and ability to manage demand more efficiently.
Lean IT is built on the proven Lean and Six Sigma practices developed in manufacturing organisations around the world, and the new courses have been tailored for IT processes (including ITIL®, COBIT®, etc). Regardless of which framework or standard your IT organisation has chosen, the central focus of Lean IT is about learning how to assess a process to eliminate waste, where waste is defined as something that adds no value to a product, service, or output.
MORE CUSTOMER TESTIMONIALS
---
"Lean IT is one of the first IT Management training classes I have taken that goes beyond basic concepts to actually provide me practical tools and methodology for how to improve"
"My boss told me to take the Lean IT class because he thinks I create fat processes; I did not know what he meant until I took this class. Now I know exactly what he means!"
"I have a deep background in Six Sigma and Lean on the business side but I did not know how these principles applied to IT Service Management until I took the Lean IT class — my eyes have been really opened"
"What I like about the Lean IT class is that I can use the principles and tools I learned in this class in my daily life not just at work"
LEARNING OUTCOMES
---
Understand the origin and development of the Lean and Six Sigma philosophies, and key elements
Understand and be able to identify the concept of waste
Learn about and how to apply Lean analytical tools

What is and how to apply A3 Thinking
What is and how to apply the cycle of continuous improvement: Plan-Do-Check-Act
Go Look and See (fact not emotion)
Value Stream Mapping
What is the concept of "Kaizen" (System, Process, Activity)
Standardise Work Practices
What is and how to apply 5S (Sort, Set in Order, Shine, Standardise, Sustain)
Visual Workplace (eliminate visual and mental noise)

Be able to define Key Performance Indicators (KPIs) for your organisation
Be able to initiate, document, and implement process improvements
Reduce costs by eliminating waste and inefficiencies in your IT infrastructure and processes
Increase productivity through improved resource management
Increase user and customer satisfaction by focusing on delivering value
WHO SHOULD ATTEND?
---
This course is designed for EVERYONE! At Pink Elephant we strongly believe that "Lean Thinking" needs to be a part of EVERY IT professional's toolkit. Already, many roles from service desk analysts through to process owners, team leads and supervisors, department managers and also including CIOs, have taken this course and benefited greatly from a deeper understanding of how to assess business processes to identify and eliminate waste.
PREREQUISITES
---
There are no prerequisites for this course.
EXAM, CERTIFICATION & AWARDS
---
This course prepares you for the examination leading to the Lean IT Foundation Certificate
The exam is 60 minutes in duration, includes 40 multiple-choice questions and is administered online by an independent examination body
Participants are provided with an exam voucher so they can schedule the exam at their convenience on any date after completion of the course
You must attain a passing mark of 65% to attain your certificate
You will attain 15 professional development units (PDUs) for Project Managers
COURSE E-MATERIALS
---
Material for this course will only be provided as downloadable soft copy files that can be viewed on a variety of devices. Attendees may print a hard copy of the files in whatever format best meets their needs, and can use the files under the Pink Elephant Terms of Use.
COURSE READING
---
Materials included with this course provide a very good overview of the concepts and principles, and adequately prepare attendees for the exam.
MULTIPLE OPTIONS FOR HOW YOU CAN ATTEND THIS COURSE
---
Self-Paced Online:

Learn at your own pace from your computer, anywhere at anytime. Get the FULL course in e-learning format for three months.

In-House:

Live Classroom: On dates convenient to you; exclusively for your team at your location with our expert instructor.
Live Web-Based: On dates convenient to you; exclusively for your team, hosted live online by our expert instructor.
If you would like more information on any of these options, please email us at information.asia@pinkelephant.com.
LEAN IT PROFESSIONAL DESIGNATION – SPECIAL OFFER
---
You can now be recognised as a "Lean IT Professional" and use a new designation after your name – LITP.
How do you qualify? Pass the examinations for three courses – Lean IT Foundation, Lean IT Kaizen and Lean IT Leadership.
FREE Course Offer! We're making it easy for you. Purchase our new Lean IT Professional "bundle" – all three courses at once – and get the Lean IT Foundation Self-Paced Online course for FREE! Click here for more details.
SHOPPING CART
---
View terms and conditions related to public courses.