COURSE OVERVIEW
---
This course prepares you for the exam leading to the Business Relationship Management Professional Certification.
The Business Relationship Management Professional (BRMP®) training and certification program is intended as a comprehensive foundation for Business Relationship Managers (BRM) at every experience level, with the training and certification designed to provide a solid baseline level of knowledge regarding the BRM role and how well-cemented and effective BRM disciplines can positively impact overall business results.
THE "HOUSE OF BRM"
---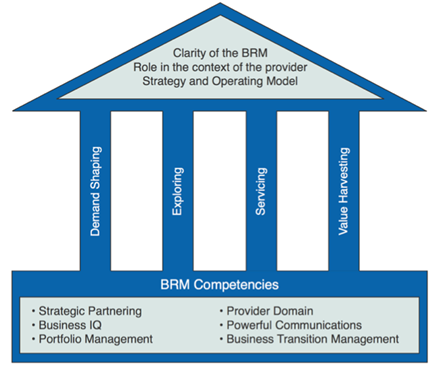 This comprehensive course introduces you to, and provides details for building "The House of BRM", which includes the following three key aspects of Business Relationship Management:
The "Foundation" supports the BRM role and ensures it has the competencies to be effective and deliver value to both the provider organisation and its business partners.
The "Pillars" define the BRM space in terms of Core BRM Disciplines: Demand Shaping, Exploring, Servicing and Value Harvesting.
The "Roof" protects Business Relationship Management as a key aspect of provider capability. It does this by ensuring clarity around the role, discipline, and organisational capability of Business Relationship Management in the context of the Provider Strategy and Operating Model.
There is also focus and details provided for the Four Core BRM Disciplines:
Demand Shaping stimulates, surfaces and shapes business demand for provider services, capabilities and products. It ensures that business strategies fully leverage provider capabilities, and that the provider service portfolio and capabilities enable business strategies. Most importantly, Demand Shaping is focused on optimising the business value realised through provider services, capabilities and products—that low value demand is suppressed while higher value demand is stimulated
Exploring identifies and rationalises demand. Business Relationship Management helps sense business and technology trends to facilitate discovery and demand identification. Exploring is an iterative and ongoing process that facilitates the review of new business, industry and technology insights with potential to create value for the business environment. The key benefit of this discipline is the identification of business value initiatives that will become part of the provider portfolio of services, capabilities and products
Servicing coordinates resources, manages Business Partner expectations, and integrates activities in accordance with the business partner-provider partnership. It ensures that business partner-provider engagement translates demand into effective supply requirements. Servicing facilitates business strategy, Business Capability Road mapping, portfolio and program management
Value Harvesting ensures success of business change initiatives that result from the exploring and servicing engagements. Value harvesting includes activities to track and review performance, identify ways to increase the business value from business-provider initiatives and services, and initiates feedback that triggers continuous improvement cycles. This process provides stakeholders with insights into the results of business change and initiatives
OTHER LEARNING OUTCOMES
---
This course will also cover:
The characteristics of the BRM role
What it means to perform as a strategic partner, contributing to business strategy formulation and shaping business demand for the provider's services
The use of Portfolio Management disciplines and techniques to maximise realised business value
Business Transition Management and the conditions for successful change programs to minimise value leakage
The BRM role in Service Management and alignment of services and service levels with business needs
The principles of effective and persuasive communication
The course has been segmented into several learning categories:

Course Overview
Key BRM concepts and the Business-Provider Maturity Model
Demand Shaping
Strategic Partnering
Business Capability and Value Management
Portfolio Management and Business – Governance
Business Transition Management
Relationship to Service Management
Powerful Communications
WHO SHOULD ATTEND?
---
IT, HR, Finance AVPs VPs, Directors & Managers
Business Relationship Managers or those in similar roles
Quality Managers & Service Level Managers
Portfolio Managers
Project Managers
Business Analysts
Enterprise and Service Architects
External Service Providers
Representatives of shared services organisations
Anyone interested in maximising business value
PREREQUISITES
There are no prerequisites for this course.
---
EXAM, CERTIFICATION & AWARDS
---
The third day of the course includes a closed-book, 40 minute, 50 question multiple choice exam leading to the Business Relationship Management Professional Certification. This exam is administered by APMG International. You must attain a passing mark of 50% to be awarded the certificate
You will attain 21 professional development units (PDUs) for Project Managers
In addition, graduates of the course qualify for a designation, BRMP
COURSE E-MATERIALS
---
Material for this course will only be provided as downloadable soft copy files that can be viewed on a variety of devices. Attendees may print a hard copy of the files in whatever format best meets their needs, and can use the files under the Pink Elephant Terms of Use.
COURSE READING
---
A complement to the course, but not mandatory or required is the publication The BRMP Guide to the BRM Body of Knowledge. It can be purchased directly through Van Haren Publishing or on Amazon. If you are a member of the Business Relationship Management Institute, you are able to download a copy of this guide for free on the BRMI campus homepage.
SPECIAL DISCOUNTS
---
A special 50% discount on the BRMI membership fee is available to all customers who purchase this course. Details of how to take advantage of this discount will be included in the confirmation letter you'll receive after registering for the course.
MULTIPLE OPTIONS FOR HOW YOU CAN ATTEND THIS COURSE
---
Self-Paced Online:

Take the course at any time, at your own pace and from anywhere using your web browser.

Public (Open Enrollment):

Live Classroom: On specific dates throughout the year, conveniently located in hotels in major cities across the country and presented live by our expert instructor.
Live Web-Based: On specific dates throughout the year; hosted live online by our expert instructor.

In-House (On-Site):

Live Classroom: On dates convenient to you; exclusively for your team at your location with our expert instructor.
Live Web-Based: On dates convenient to you; exclusively for your team; hosted live online by our expert instructor.
Questions?
SHOPPING CART
---
View terms and conditions related to public courses.