#PinkInAction
Welcome to our "in action" online education series!
Throughout 2021, Pink is presenting a series of special online educational events filled with very practical how-tos and here's-how-to-do-it-in-the-real-world guidance.
The next in the series is IT Business Perspective in Action and will be presented on June 21-22. See details below.
IT Business Perspective in Action
June 21-22, 2021
Another world first!
A content-rich 2-day education symposium that goes beyond just theory to give you practical implementation guidance.
About the online symposium
Introducing a very unique educational experience not offered anywhere else.
This online event will help IT professionals grasp the full meaning of what it really takes to run a truly business-focused IT organization.
There are ever-increasing demands for value-driven IT services. The days of IT working and acting as the corporate genius bar is long past. IT today must be multidisciplined, nimble, and – most of all – business-strategic and business-minded. A core competency for the IT "new normal" is to think and act in similar ways as other organizational functions.
IT Business Perspective in Action – a Must-Have!
IT must not only be the best at delivering business value through IT services, but also manage and lead IT with the same discipline and business acumen expected from other corporate domains. This online education symposium addresses what IT needs to be focused on to deliver strategic, tactical, and operational business value for the enterprise.
About the Program
The 2-day program has been specifically created by Pink's most senior consultants and will include one track. The subject matter is based on teachings from different business frameworks and our consultants' own experiences working with very progressive and successful (and very business-minded!) senior IT leaders in forward-thinking organizations.
A major focus of the program is Pink's IT/Business Model: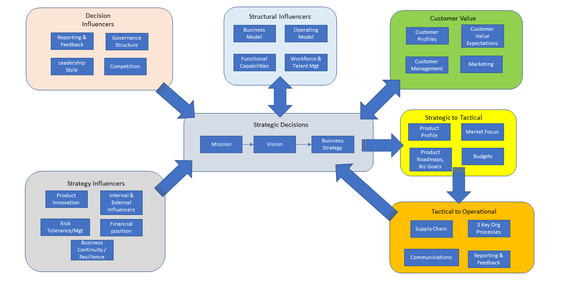 Learn more about the program:
Click below to look at this one-of-a-kind agenda.
View Program
Early Bird – Special Offer!
Register before May 14, 2021 and get $100 off the regular fee, PLUS you can apply the fee to any live virtual course scheduled in May, June, or July 2021. Anyone from the registrant's organization can apply the $695 CAD early bird fee to one course.
Click below to read all the details.
Learn More
Quotes from Raving Fans…
Thank you. You are an extraordinary force for good in the world!
The symposium was excellent. The speakers are world class…access the online symposium was also excellent.
Very inspiring...loved it! It re-energized me to follow this process and how important the Value System, Chain, and Stream are. Thank you!
Enjoyed the discussions, the top tips, and especially the awesome music! Thank you all.
The symposium was excellent. The speakers are world class…access the online symposium was also excellent.
The event was really well run, and all the speakers are great teachers, besides being extremely knowledgeable in various subject areas.
Previous
Next